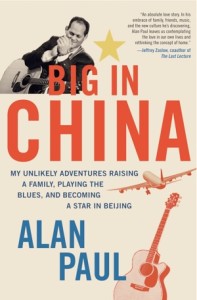 Every semester we welcome new students coming to China from the US to study, live, and intern here in Beijing.  One of the biggest challenges is helping students who have never been to China to not only survive the transition and shock of suddenly being in a new culture but also how to get out into the community, make friends here, and find their "China niche."
I try to remind students that it doesn't matter how good their Chinese is, or how many books about China they've read, or how much international travel experience they've had coming into this, what matters more than anything is attitude: being ready to put yourself out there, to take chances, and be accepting of new experiences – some good, some bad – as part of a long-term process of learning to live and be a part of Beijing.
There are many books about coming to China and about the whacky adventures of laowai as they transition from excitement to confusion to redemption. It's a genre unto itself.  But few talk about the experience with the warmth and emotion of Alan Paul's new book Big in China.
A more-or-less accidental expat (Paul's wife was posted to the Beijing bureau of the Wall Street Journal, for which Paul also contributed the award-winning "Expat Life" column), Paul encountered many of the stages of culture shock and adjustment that I see in my students: starting with bewilderment, amusement, and annoyance at those unavoidable facts of China life (crowds, noise, pollution, traffic) and then developing a growing confidence and ability to tackle, understand, and appreciate why China is the way it is.
One of the strategies we share with our students at the center is to find your niche, and see how your own interests intersect with those of people you meet here in Beijing.
Alan Paul fortunately was blessed with a variety of interests, but most of all there was music. As a senior writer for Guitar World magazine, he had an instant in with local axe-heads and he and his new lifelong friends, most notably lap steel whiz Woodie Wu, turned that shared love into one  of Beijing's best party bands.
China can be a tough nut to crack. Come at her with the wrong attitude despite all the chengyu you can rattle off or the number of Peter Hessler books you've memorized, you can find yourself simply bouncing off the surface of society without ever getting a peak underneath.
But what is that right attitude? I tell students that it's a willingness to concede something of your own self-importance, to allow yourself to be taught, and to put aside the incessant need to compare, contrast, and come out ahead.
(Kaiser Kuo, our 2010 fall convocation speaker, offered a more succinct version: "If I can sum up my advice to you in one sentence it would be this: 'Don't be whiny little expat bitches.")
It was a lesson Paul learned first from his Chinese teacher, Yechen, a fascinating character who flits in and out of the narrative providing a useful counterpoint to the earthy, fun-loving characters in Paul's band, Woodie Alan.
After forming the band, Paul became immersed in a Beijing sub-culture of musicians and music lovers, moving beyond simply being another "Lao Wai" and instead being a friend, bandleader, and confidant.
Now to be fair, Paul's memoir is from the perspective of a very special (and increasingly rare) Beijing species – the Shunyi Expat Package foreigner.  The book is peppered with details of drivers and detached homes and a community of similarly well-provided for expatriates living a lifestyle well outside the experience of most of my foreign friends and colleagues here in Beijing.  That said, I've never had to raise a family here and I can hardly begrudge any situation that helps to make that easier. Nevertheless, I can already foresee a certain type of Lao Wai grumbling over their 5-kuai noodles and hip flask of erguotou raging like a modern-day Backhouse about gated communities and 21st-century concession areas.
But I reckon that misses the point. Paul should be commended for the way he tried to break free of the Shunyi bubble. I particularly enjoyed the stories of Paul going on the road with his band.  Can his adventures compare to the road weary stories of Paul Theroux or the wry adventures of Peter Hessler? No. But this isn't a travel book. It's the story of how a single interest – in this case – music can bridge culture and language and render moot all the static about East and West, Nei and Wai, China and Foreign.*
This book is highly recommended for anybody interested in Beijing, especially families thinking of making the big move to China. But even "Old China Hands" will appreciate the effort and attitude that made Paul's experience here so rewarding and which make this story of expat life so refreshing.
———————————————-
*Speaking of Kaiser, this particular section reminded me of a story in Kaiser's own Ich Bin Ein Beijinger about a train trip with his band Chun Qiu. There's something about riding the rails in Beijing that brings people together and exposes their little quirks, for good or ill.
————————————————
Alan Paul in Beijing this week:
June 15, 7:30 PM – Beijing Bookworm
Reading, Signing and Acoustic Performance
June 16, 7:30 PM – The Orchard
Reading, Signing and Acoustic Performance
June 17, 9:00 PM – Jianghu Jiuba
Woodie Alan Reunion, Book Release party
———————————
Disclosures, Disclaimers etc:
Alan sent me a copy of his book to review which was then donated to our program's library.  After reading it and writing this review, I learned he would be coming to Beijing this week and asked him if he would be interested in speaking to our students and he'll be meeting with our summer session group this afternoon. FYI: I wrote the review before I asked him to speak, so don't worry. I really liked the book. Final musical disclosure: I'm a big fan of jam bands/boogie rock and the fact that I used to regularly get down to Woodie Alan's music did not in any way influence my judgment about the lead singer's prose style.