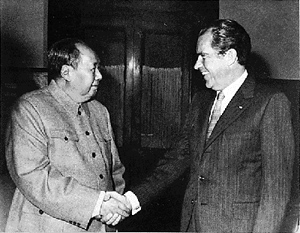 February is a big month for presidents.
In presidential history, February is not only the birthmonth of George and Abe (who share a day) but also that of Ronald Reagan and William Henry "Coulda Shoulda Woulda worn a coat" Harrison.  Stretching a bit, we can include William McKinley and Franklin Roosevelt, who were really born in January (the 29th and 31st respectively) but qualify as Aquariuses and there's useful symmetry to including into our February celebration the president with the longest tenure (FDR) along with the shortest (Harrison).
China's next president looks to be Xi Jinping, who is trying very hard to impress (his home audience) this week while in the United States.  On one hand, it's very easy to look presidential standing next to Joe Biden. On the other, the need to be diplomatic and low-key isn't something that comes all that naturally to Vice President Xi and in most of the photo ops I've seen so far, his attempt as looking 'Chairman-esque' has often resulted in making a face which rather resembles a constipated wombat.
It shouldn't matter because, as I've been reminded approximately 452 times now, Xi has a hot wife, who happens to be both a model AND a major general.
February is also, of course, the month in 1972 when Nixon changed the world, the subtitle of a new documentary written and narrated by Mike Chinoy as part of the USC China Institute's Assignment: China documentary series.  Whether Margaret MacMillan minds that Mike Chinoy is using the same subtitle as her 2007 book Nixon and Mao: The Week that Changed the World is moot, because Nixon, in a fit of not uncharacteristic blather and grandstanding, proclaimed the week to be just that, 40 years ago this month during his final stop in Shanghai.
Unlike MacMillan, who took us through the political and diplomatic machinations before and during the visit, Chinoy's film is specifically about the message and the messengers: the press corps who followed Nixon to China and who struggled to cut through the opaque fog of Chinese public relations and CREEP propaganda. Or was it the other way around? This was an event made for television, and it's a little unnerving at how simpatico Nixon's people, including H.R. Haldeman and Ron Ziegler, were with their Chinese counterparts in crafting a public face for the president's visit. After a week of watching Pat Nixon visiting school children and touring the kitchen of the Beijing Hotel, the press corp was in full revolt, stymied by the best efforts of the White House and Zhou Enlai who served up nothing but bland quotes and carefullly choreographed images.
The Chinese limited the number of reporters who could accompany the president, and Nixon cut the list further by (temporarily) nixing any reporters from the Washington Post or the New York Times in separate fits of paranoid pique, but the roll call was still an impressive roster of old China hands like Theodore "Thunder out of China" White, established news veterans like Walter Cronkite, and lesser known names like Barbara Walters, Dan Rather, Ted Koppel, and Diane Sawyer (who was on Nixon's staff during the trip and so was playing for the other team.)
Do we learn anything new in the documentary? Well…Walter Cronkite had battery-powered socks that kept malfunctioning, and it's entirely possible those had been sabotaged by Rather, who even four decades later still seems as pissed as a rabid one-eyed jackrabbit in a hole full of gophers that he was told to wait like a lackey in Beijing while Cronkite accompanied the president to the Great Wall. Barbara Walters felt lonely and ostracized by the male reporters on the trip. Former US Ambassador Winston Lord III sounds shockingly like Boston Celtics great Bob Cousy.  Not sure that was even possible. Diane Sawyer wore disposable pantyhose (don't ask). The print media, devoid of quotable copy, resented the hell out of the TV people, who were overjoyed at the images they could beam back to the US of smiling schoolchildren doing exotic Chinese-y things like 'dancing with ribbons' and 'eating with sticks.'
Those who feel that today's foreign correspondents come loaded with an agenda can take comfort that it was once worse. Much, much worse.  Ted Koppel lamented his translator's inability to tell a joke in English, insinuating what I don't know…Mao outlawed humor? Chinese aren't funny?  Recalling the trip four decades later, former CBS foreign correspondent Bernard Kalb, who really ought to know better,  ill-advisedly drops the phrases 'mystery country,' 'dragon,' 'hidden kingdom,' and 'secret country' in one unfortunate 45-second clip so dripping with Orientalist cliche I half-expected him to bang a gong at the end and then wai the camera.
The film isn't overly kind to Richard Nixon, but given that half the people interviewed ended up on his enemies list at one time or another, that shouldn't come as a huge shock.  Nixon's infamous Great Wall quote ("It really is a great wall…") once again gets truncated.[1]
The behind-the-scenes footage, much of it available elsewhere but used to great effect here, is fascinating.  There are candid clips of Zhou Enlai making jokes as well as a few off-hand remarks by Nixon which suggest his affinity with Mao – another paranoid egocentric doomfreak with no friends, a batty wife, and an enemies list – was perhaps more than just political expediency.
Despite the rather sizeable role Kissinger played in negotiating and orchestrating the event, Hank seems oddly marginal in this film, perhaps because he left it to Nixon to put a public face on whatever the hell was being negotiated behind closed doors:
"Great. Yes. I will give you rapprochement, plus the island of Taiwan, in exchange for a clevely worded communique, future access to your government for anyone who pays me the ducats in exchange for said access, a platinum membership to the Beidaihe Number One Bathing Beach Spa and Massage Paradise Lounge, two mated pandas, and a guaranteed photo op with me and every Chinese leader during my lifetime plus whichever two emerge after I'm dead. Nobody will know the difference."[2]
The film joins a growing list of useful and impressive research into the history of reporting in China.  With so much attention placed these days on the mindset, mentality, and motivations of foreign correspondents, it's worth looking at how attitudes and techniques for covering China have evolved over time.  Notable contributions in this field include Paul French's excellent Through the Looking Glass: Foreign Journalists from Opium Wars to Mao and the relatively recent volume edited by Susan Shirk Changing China, Changing Media.  For that matter, the hilariously ribald (if often fictional) memoirs of Edmund Backhouse, whose collection of Chinese whispers and Manchu pillow talk provided grist for the columns and dispatches of George Morrison and others, shows that unsubstantiated rumors, no matter how goatshit insane, had juice even in the pre-Weibo era.
Assignment China: The Week that Changed the World is a good companion to these works, and would make a superb addition to a Modern Chinese History or US-China Relations course syllabus or possibly as a gift for the Barbara Walters fetishist/completionist in your life.
---
[1] He followed up with "…and it must have been built by a great people."
[2] It's possible I may have paraphrased a bit.